BluePrime empowers your sales and marketing team with data analysis and actionable insights to help understand what happens next and what further action is recommended. 
A Comprehensive Data Solution for Businesses of all Sizes
BluePrime is a market-leading platform that pulls and analyses data from multiple sources. The data runs through a variety of business rules and environments to produce a comprehensive insight into you customer's needs. It also recommends next actions and the perfect selling points to increase customer revenue.
What Does BluePrime Cover?
Customer account managers can access their assigned accounts where they are shown a detailed overview of who they should be selling to, what they should be selling and how likely they are a customer is to churn.
Our inbuilt chat bot feature makes this information easily accessible and digestible for employees. Marketing teams can also benefit from Sentiment analysis. The solution will give marketers a comprehensive overview of the mentions your organisation is accumulating on social media and the recommended action to take on each post.
How BluePrime Helps your Business
Companies who already deployed BluePrime have benefited from the following:
Customer retention
An increase in average consumer revenue
Improved customer journeys
Brand identification and forecasting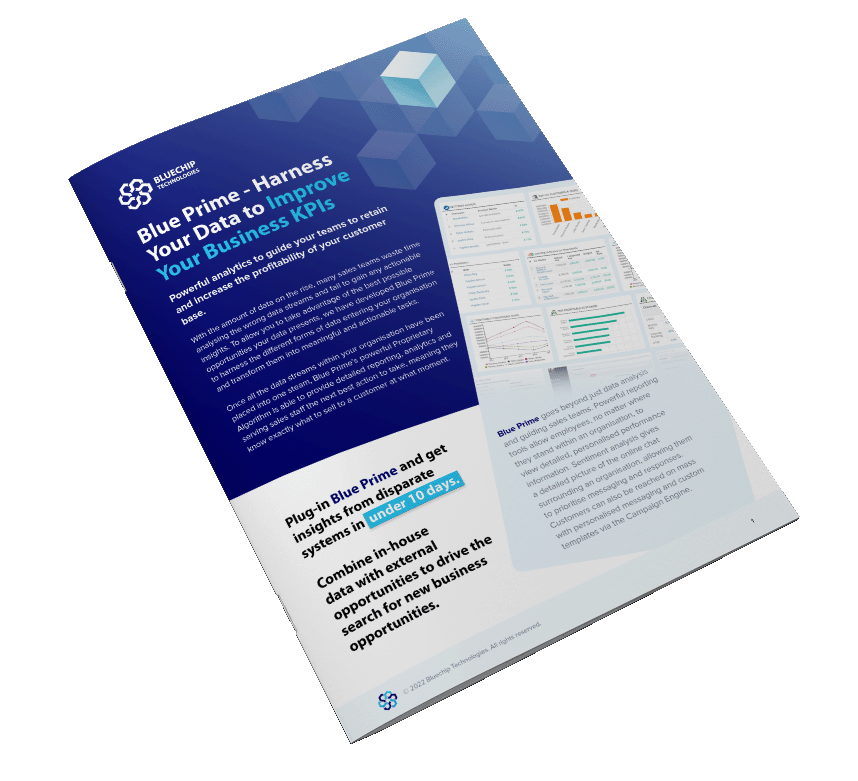 BluePrime - Harness Your Data to Improve Your Business KPIs
Powerful analytics to guide your teams to retain and increase the profitability of your customer base.
Essential Features of BluePrime

Sell to customers at the right moment with powerful predictive algorithms.

Easily reach a huge database with personalised messaging.

Predict customer churn, profitably actions, and more.

Analyse social feeds to understand the chat around your organisation.

Ensure your employees are up to date on workloads and campaigns.

Generate quick responses to employee queries with our in-platform chatbot.
The technology behind BluePrime

BluePrime takes your data from multiple systems and runs it through machine learning algorithms to produce actionable insight for new or current customers.

BluePrime can be integrated into billing, CRM, ERP and other systems.
Solutions we have provided for our customers
Request a demo today and see why we are the platform of choice for some of the  largest banks and telecom providers in the world.