Voucher Management - Simplex
Voucher Management is a flexible solution for mobile operators to manage vouchers from their generation through to redemption.
What is a Voucher Management?
Bluechip technology has worked with various telecom providers to provide a voucher management solution that manages the complete lifecycle of recharge vouchers from voucher generation, PIN creation and also the redemption of the voucher. The voucher management solution (VMS) is designed with open APIs that allow any telecom provider to make the solution work with any existing OSS/BSS systems. It also allows easy payments via bank transfers or credit cards by using the integrated payment gateway.
Bluechip's voucher management system known is called Simplex because of the easy-to-use interface it provides for distributors and retail operations managers. It's a self- service tool that gives users complete visibility of the voucher lifecycle.
What does Voucher Management do?
Generates vouchers, prints and generates a pin
Easy intuitive interface for distributors and SIM sellers
Manages the warehousing, distribution, activation and redemption cycle
Controls multiple voucher transactions
Simplex vouchers are distributed via POS, USSD and web, enabling operators, distributors and resellers to sell vouchers virtually. This was essential during the COVID pandemic, when physical distribution of vouchers become impractical, and now electronic vouchers are normalised and have been made entirely feasible and highly cost effective with Simplex.
Voucher Management key features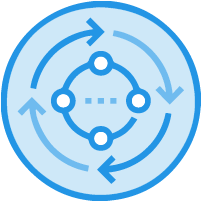 Simplex provides a uniform platform to create, categorise, classify, and manage different products as required and defined by your organisation.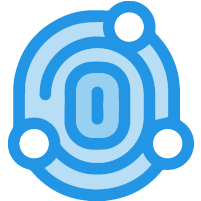 Pin Supply and Redemption
Simplex allows channel partners to sell/vend purchased virtual top up either as virtual top up or covert to recharge PINs for PIN based recharge.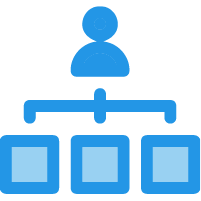 Security and User Manager
Strict controls, design choices and operational best practices are put in place to ensure integrity of the system. Full audit trails and secure status tracking enterprise wide.
Adaptive Pin Generator allows you to use a mix of User ID, Serial No, and the Timestamp of the request for PIN uniqueness.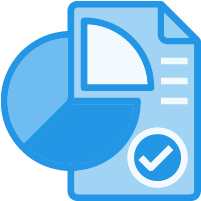 Provides your organisation with complete visibility of voucher life cycle through extensive reporting and customised to admin needs.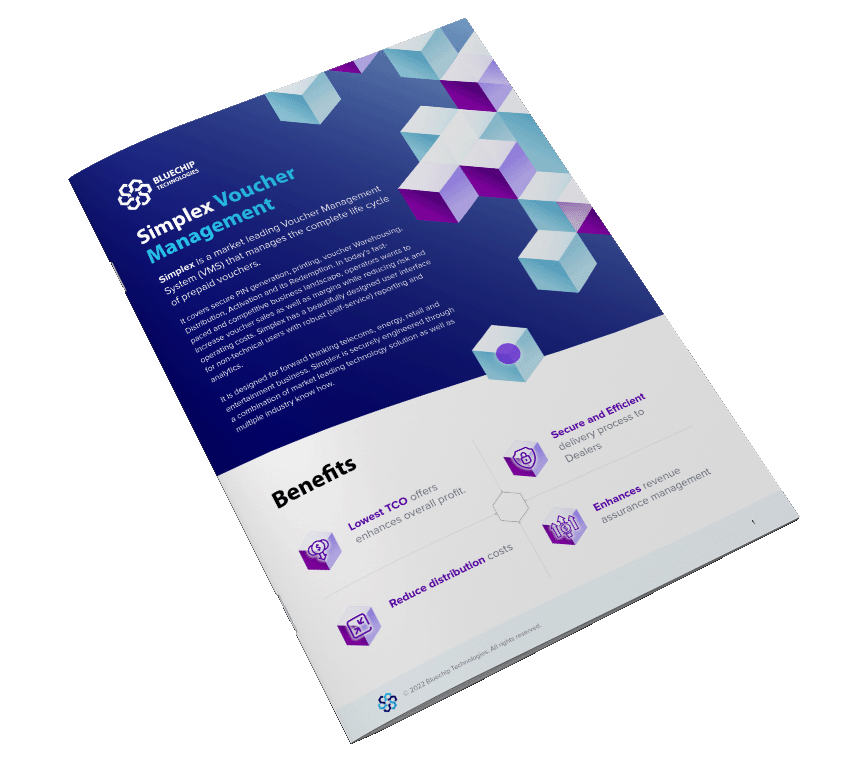 Simplex Voucher Management
Simplex is a market leading Voucher Management System (VMS) that manages the complete life cycle of prepaid vouchers.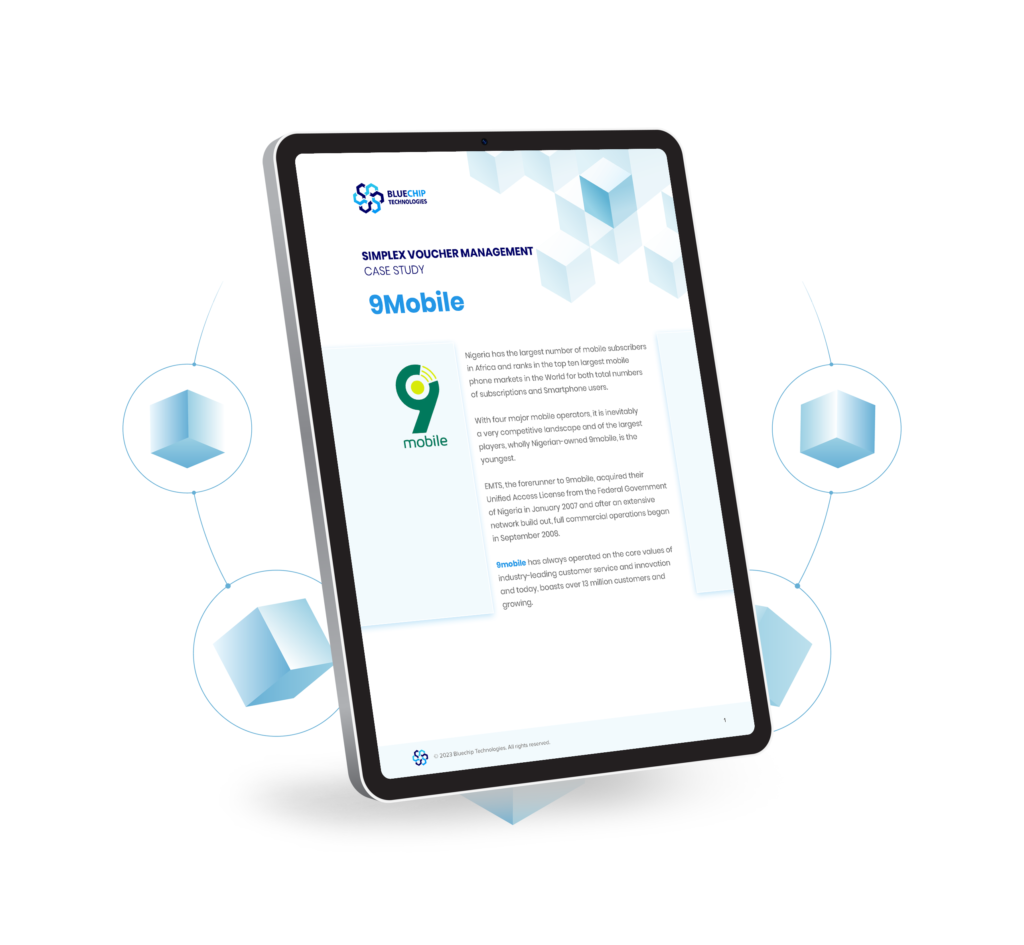 Voucher Management System Integrated for 9mobile
Bluechip helps a mobile network operator, 9mobile, to build expansive business support systems to ensure it had the business intelligence to be able to understand customer behaviours, increase ARPU and reduce churn with the help of Voucher Management System.
How Voucher Management works for telecoms?
Bluechip's voucher management for telecom has the following key components
Voucher generation – A voucher is generated as the telecom operator or the dealer makes a request for it, encrypted and saved in the VMS database.
Distribution – Distribution of the voucher is done through a simple user interface. The voucher files are encrypted during the distribution making sure the voucher distribution is secure.
Voucher activation – Voucher activation requests are made through the user interface. Each request for activation carries the details of the prepaid customers MSISDN and as the customer details are found in the database the transaction is completed through the integrated payment gateway.
Notification and Reporting – The customer and the seller is notified of the activation giving the customer a seamless experience and full voucher lifecycle reporting for the telecom provider or retailer.
Why telecoms use a Voucher Management System?
Over 70% telecom operators generate their revenue from physical channels – their own stores, via distributors or individuals. A voucher management system helps reduce the cost of mobile point of sales services and provides the distributors an easy way to generate, activate and manage voucher sales.  
An effective voucher management system like Simplex also helps reduce risk for telcos as it ensures data integrity and security through the encryption of vouchers. The transaction are auditable as they can be tracked in the server and information against them can be retrieved when needed.  
It also offers a smooth experience for the customer as the payment system is fully integrated with the VMS. This means the customer can make easy payments through card or bank transfer and complete the transaction without having to jump interfaces. A better customer experience in turn leads to more sales and increased revenue for the telecom provider.  
The voucher management systems is designed to be used by mobile point of sales teams, dealers and distributors alike. The system has an easy to use, no-code user interface which allows users to promote and increase sales through vouchers.
Mobile operators (MNO's) and Virtual Network operators (MVNO's) use voucher management systems to manage both physical and digital vouchers
VMS is used by wholesale distributors and dealers to manage the supply chain of vouchers.
Simplex provides complete security with voucher encryption through printing servers with a complete audit trail of the voucher. The voucher data sent to any partner is securely encrypted and can only be decrypted before printing. This reduces the risk of fraud and revenue leakage for the operator.
Simplex Integrates with Operators
Simplex Voucher Management also integrates with other operators BSS or other third party system so you can work with existing applications or systems. Get in touch to find out more.
Solutions we have provided for our customers
Request a demo today and see why we are the platform of choice for some of the
largest banks and telecom providers in the world.